Our 15 minute summer pasta with zucchini and anchovies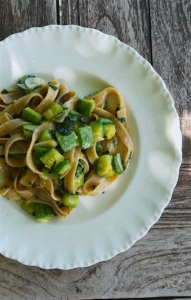 These days the temperature is constantly hitting 35c degrees or more – and sorry – but then most days we reduce standing in front of a stove to the minimum. Then this super easy and delicious pasta comes in handy. Plus it's a very tasty way to eat our way through the many zucchini from the orto.
A note on zucchini – always try and get smaller zucchini. These have much more flavor, they are sweeter, more dense in texture and less seeds. If you can – look for the Romaneschi – these light green zucchini with ridges are totally superior in taste – but any will do for this delicious summer dish.
So lets get cooking. This is for 2 persons.
Bring a large pan of salted water to the boil. Cook 250g pasta – we like to use either a good dried tagliatelle or if a short shape – then rigatoni is great. You don't want to make this dish with fresh pasta – you want the bite from the dried pasta.
Quarter 4 small zucchini on the long side, remove the seeds and cut into large dice.
Pour olive into a large pan, enough to cover the base. Add 2 cloves of garlic, thinly sliced, 6 salted anchovy filets and fresh red chili to taste. Place pan on low heat and let the anchovies melt into the oil.
When there are 8 minutes left on the pasta, add zucchini to the pan with the pasta and cook together with the pasta.
Season the anchovy oil with salt, pepper and lemon juice. Drain pasta and zucchini and transfer to the anchovies. Save some of the cooking water. Now stir and toss like a crazy to emulsify the oil and create a creamy sauce. Add some lemon zest and lots of chopped mint.
Enjoy right away.
http://ilghiottoneumbro.com/wp-content/uploads/2021/05/Il-Ghiottone-Umbro-Logo-2.png
0
0
Thomas Tviis Hansen
http://ilghiottoneumbro.com/wp-content/uploads/2021/05/Il-Ghiottone-Umbro-Logo-2.png
Thomas Tviis Hansen
2021-07-07 17:20:14
2021-07-07 17:25:20
Our 15 minute summer pasta with zucchini and anchovies