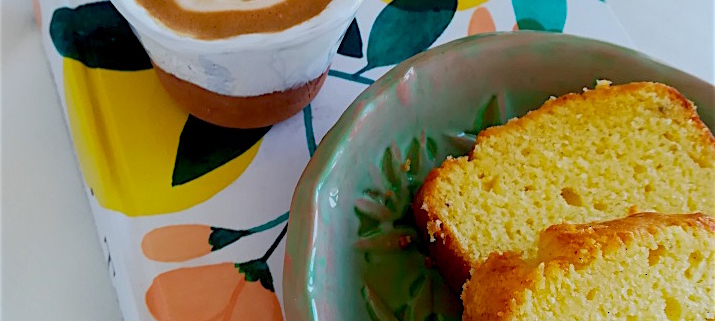 The must be the silkiest cake ever, so rich and still so light. Pound cake is one of our favorite sweets for breakfast here in Todi, and this is even more delicious when adding silky ricotta to the mix.  Heaven in a slice. Great for breakfast, but also for a dinner sweet with some ice cream and crushed berries.
1 loaf
225 g flour
2 1/2 tsp baking powder
1/2 tsp fine sea salt
1/2 vanilla bean
340 g sugar
165 g soft butter
380 g ricotta
3 eggs
Preheat your oven to 180c degrees.
Grease and flour your loaf pan and shake our excess.
In a bowl sift together flour, baking powder and salt.
Scrape out vanilla seeds, add a little sugar to the seeds and mix them together on a board with the tip of a knife. Add to another bowl together with the rest of the sugar, butter and ricotta. Whisk together using a handheld mixer for 3 minutes.
Add the eggs one at the time making sure they are well incorporated before adding the next.
On low speed add flour. When everything is incorporated whisk for another minute on medium speed.
Pour into prepared pan and bake in preheated oven for 15 minutes. Lower the temperature to 170c degrees and bake for a further 25 minutes or until risen and golden. Remove from oven and turn onto a wire rack to cool.
https://ilghiottoneumbro.com/wp-content/uploads/2021/08/ricotta-cake.jpg
902
715
Thomas Tviis Hansen
http://ilghiottoneumbro.com/wp-content/uploads/2021/05/Il-Ghiottone-Umbro-Logo-2.png
Thomas Tviis Hansen
2021-08-17 18:50:12
2021-08-17 18:50:32
Ricotta pound cake